Following the success of Agile CRM, our all-in-one customer relationship (CRM) software, our marketing efforts were rapidly expanding. Leading the way was our informative website describing all of the features that could benefit our customers. However, we weren't getting the traffic we wanted on our new website.
We knew we had a great product when we released Agile CRM and the product spoke for itself for many loyal customers. That's why it was so surprising when we tried to expand our marketing and we weren't as successful.
We talked to some experts and looked at the competition and it wasn't long before learned that we needed to focus more on our search engine optimization (SEO). But how?
SEO was a simple enough concept for us, but actually getting it to work for us was a whole new complex world. And, since we found ourselves coming up with different ways to help our customers in the same ways we needed help, we asked them if they too were having difficulties with SEO on their websites.
So, we sought out an SEO tool that could help us and that we could recommend to our customers, if we saw the results we wanted. We looked at some of the most popular solutions available on the market and realized we didn't have that kind of money in our budget. We looked at some of the low-cost solutions, but they didn't have all the features we needed.
We had a problem that needed a solution...and fast.
The Problem
We were in need of an SEO solution that could determine how well our website was ranking in the search engines. We wanted it to be able to scan our entire website and analyze the data to find issues.
We were so new at the SEO game that we needed something that would basically grade us to tell us what we are doing right and what we are doing wrong. We were never sure if we were hitting target keywords as we should or if our metadata was up to par.
We also had a desire to be able to compare our results as we made improvements so we knew which of our tactics were working and which were not. Plus, we wanted it to be able to find issues such as broken links with each iteration in case anything changed from one version to the next.

We were constantly changing our meta titles, meta descriptions, page headers, etc. and needed our tool to help us determine if they were ideal lengths and optimized for keywords. We did not want to miss out on opportunities to optimize our images or alt tags either.
Our problem was basically that we wanted to have the most optimized website as possible, but we didn't have the time or the money to put a bunch of extra resources on it.
It was at this point that we realized our best solution was to create the solution ourselves so we could have all of our requirements met and be able to offer it to our other small- and medium-sized businesses so they could operate like a Fortune 500 organization too.
So, we got together to gather our requirements for our new SEO software solution .
The Requirements
We determined that our primary requirements were the following:
Page grader: Ideally, our pages could be analyzed and graded so we could fix errors to improve our SEO health without confusion.
Website audits: We wanted to be able to perform audits and score them to understand our optimization levels.
Discover issues: We wanted to be able to see if there were any issues throughout the website such as broken links, server issues, URL issues, etc.

Keyword audits: We required our new tools to analyze whether or not we are using the chosen keywords correctly. Link analysis: Our solution needed to be able to analyze internal and external links to measure their uniqueness and performance.
Page speed: Knowing what we knew about visitors' impatience with slow websites, we wanted to make sure our tool measured this for us.
XML analysis: It was brought to our attention that we should ensure our XML sitemap was also optimized for search engines to understand our website structure.

These requirements need to all be met while remaining affordable for small and growing businesses. So, our team went to work coming up with the perfect SEO solution.
The Solution
The result was an SEO solution that could crawl websites to effortlessly improve page rankings. It was the perfect solution for our needs and one we could offer to our customers as well. This is why NinjaSEO was born.
The solution included a website crawler that could crawl deeply into the website to find issues such as broken links, server errors, URL, issues, and more, making them easy to fix, ultimately working towards optimizing your website.
NinjaSEO includes keyword analysis to ensure it is included in all the places it should be to optimize the website. Plus, it automatically analyzes website pages using a checklist and an on-page grader to make it easy to understand what needs to be fixed and why.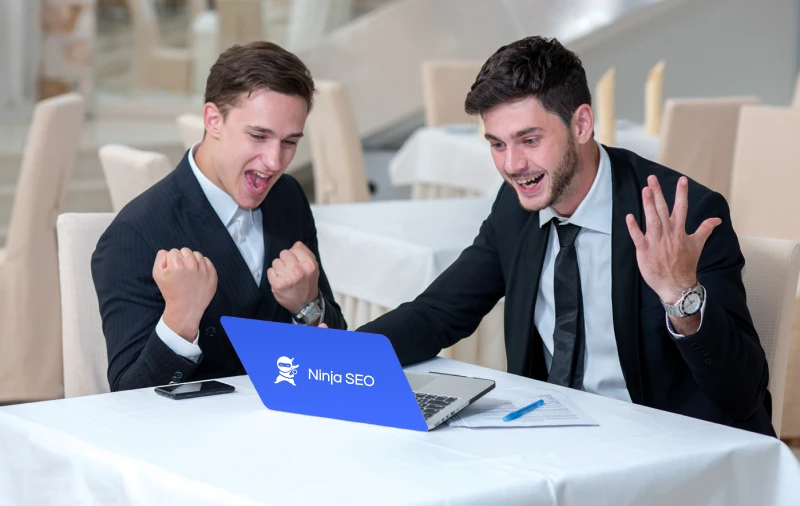 As documented in our requirements, our solution includes the ability to find all unique internal and external links and provide the percentage of them throughout the site. It also checks the indexability of links.
NinjaSEO will also measure the speed at which website pages load and reduce the size to load faster, if needed. Not only does it check images for load time, but will also give in-depth data on types, sizes, and alt tags to ensure they are all optimized.
And, since search engines need XML sitemaps to fully understand websites and rank them higher, we ensure that NinjaSEO would analyze them as well.
NinjaSEO's deep website crawling capabilities and ability to provide improvements and recommendations to rank better with search engines is unsurpassed by competitive SEO tools. Give it a try for free for 30-days and see for yourself how NinjaSEO can help your growing business.