7 Powerful Metrics to Engage Your Customers on Social Media
Getting social media engagements can be tough if you're not committed to it. To help you, here are some powerful metrics for customer engagement on social media.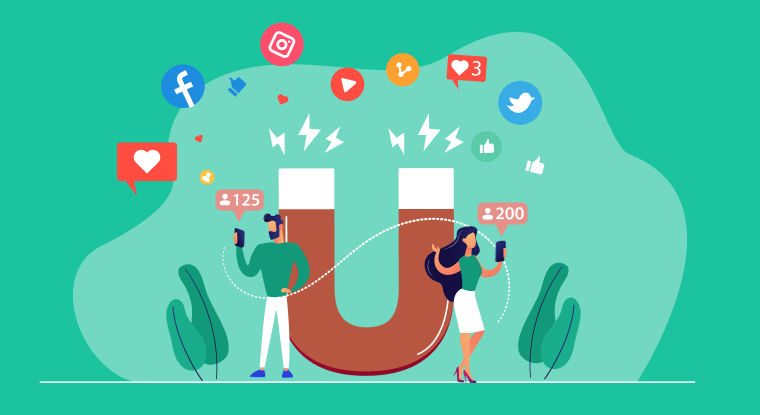 There is a reason why most businesses that truly want to succeed are on social media. It is where the people are. Brands' marketing has taken a new dimension in the last couple of years, with brands looking to form a relationship with their targeted customers. A relationship that not only involves them purchasing or using a particular brand or service, but a relationship that allows customers to feel close and listened to.
To be clear, certain aspects of this relationship are more pronounced than others, and they give an insight into whether or not a marketer is pulling out all the right stops. One of these aspects is engaging social media. The measuring of comments, likes, and shares on social media is known as social media engagement. Of course, you want to grow your following, but the most important metric of social media success is having an engaged audience, not just a large one. Quality, not numbers, is what you should be aiming for as a business.
The other aspect is customer engagement. All of your interactions with customers, both online and offline, are referred to as customer engagement. Customers should, in theory, feel and act favorably toward your company or brand as a result of those interactions. You must engage customers to attract, convert, and keep them — transform them into advocates and make a suitable, effective, and meaningful connection with them.
This is why both customer engagement and social media engagement are such a big deal in marketing today. But the internet, just like the world, is an ever-changing space in which individuals need to keep up with trends to stay relevant. So, while social media engagement is a way forward in improving the growth and success of one's business, it should be understood that certain criteria have to be met across the board, and these include the use of link building and social SEO.
Simply put, link building is the process of obtaining links from other websites to your own. All marketers and business owners should be interested in generating links to boost their site's authority and drive referral traffic. Due to this reason, sites with more backlinks have a better chance of ranking higher.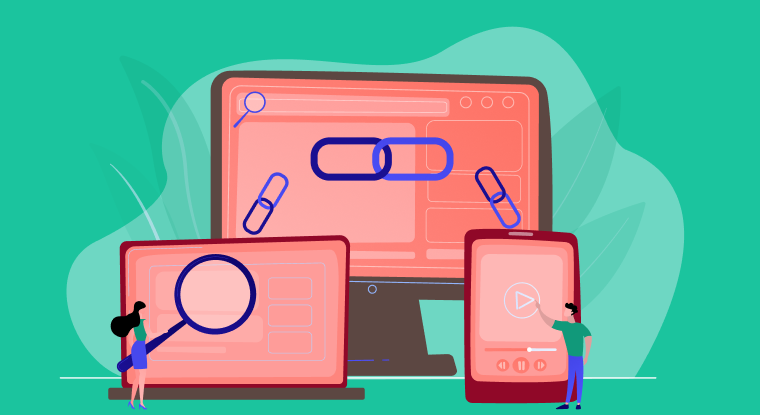 The concept of social SEO is that social media links and activity play a significant role in a website's search rankings. Said, SEO is the process of optimizing content—whether it's on your website or a social media platform—to appear higher in search results. But why do people talk about social SEO? What does it have to do with your business, you might wonder?
If you are a marketer, you should be aware of what SEO is, but if not, the term refers to search engine optimization, which has to deal with how one's business website ranks on search engines like Google. Are you seeing where this is going? The idea is to make your business 'trend' for lack of a better word, and the only way to accomplish that is with social SEO because it's critical to improve your SEO strategy. After all, it boosts your search visibility and Google rating.
However, severe competition makes appearing in search results difficult since more content is uploaded every day. This is why investing in a smart social SEO strategy and using link building will only serve as an aid for your business' growth.
Although social media does not directly affect SEO rankings, the links you distribute through link building across social media platforms help to boost brand awareness. They add together and have six different effects on your social SEO.
The widespread diffusion of content.
Your postings will have a longer lifespan.
Increases your website's natural traffic and visibility.
Improves your brand's recognition.
Improves the brand's image.
Enhances the efficiency of local search engine optimization (SEO).
In social SEO, link building is critical since it helps increase organic traffic via search engines, which is especially important in competitive sectors. The process of obtaining links from other websites to your own is known as link building. A hyperlink (often referred to as a link) allows visitors to move between web pages. Search Engines use a website crawler to crawl and index the content of the webpage. They will also crawl the links between your website's individual pages as well as the links between larger domains.
To get your social SEO, link building, and social media engagement strategy on track, you should use seo tool like NinjaSEO. It has amazing features that let you do the following;
It boosts website visibility in seconds, allowing them to rank better on Google and other search engines.
It boosts your search engine ranks by evaluating keywords and ensuring that you appear at the top of the search engine results for maximum exposure.
With more backlinks and link building, the page score improves. Your firm can boost its page score and overall website performance for better exposure by discovering and getting additional backlinks.
There are also several metrics that businesses can use to engage their customers during their social media engagement strategy. These include;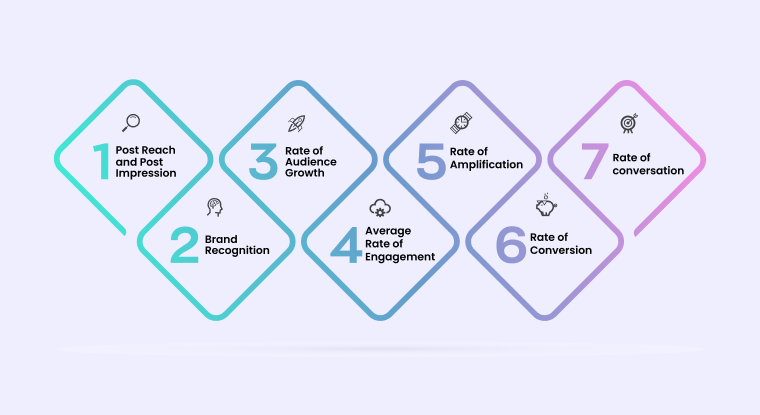 1. Post Reach and Post Impression
Post reach and post impressions are two of the most crucial social media engagement metrics to remember. While they sound like they mean the same thing, they aren't. These two indicators, when combined, will give you an estimate of how many people are seeing a certain post. The number of unique users exposed to a piece of content is referred to as post-reach. The number of times your target audience has seen your material display on their screen is post impressions. There's more to it than merely keeping track of your postings' appearance across numerous social media platforms. Monitoring post reach and impressions can also help you figure out if you're posting at the proper moment.
It also tells you whether or not you're utilizing the proper hashtags or keywords in your postings. It's also vital to track organic and sponsored post reach and impressions if you run social media engagement ads or boost posts. Both sets of analytics can paint a completely different picture of your current position in each channel.
2. Brand Recognition
This metric assesses the percentage of a market that can recognize a brand when asked (aided) or when not asked (unaided) (unaided). During a reporting period or a set period that provides statistically meaningful data, brand awareness is defined as the amount of attention your brand receives across all social media platforms.
Attention may be measured using a variety of social media measures such as mentions, shares, links, and impressions. Reporting periods vary in duration, but they usually last a week, a month, or a quarter. Brand mentions are another key social media engagement metric that falls under brand recognition and an important metric to add to your regular reporting. As a result, you'll be able to understand brand awareness and sentiment better. It's especially useful for warning you about upcoming public relations issues.
3. Rate of Audience Growth
The Audience Growth Rate (AGR) is a social media engagement metric that gauges how quickly your brand's social media following grows. It's all about how quickly you can amass a following.
As the world's population gains access to the internet, so will the number of people who follow businesses on social media. The question you should be asking isn't, "How many net new followers did we acquire last month?" instead ask, "How quickly did we gain net new followers last month—and was it faster than our competition?"
4. Average Rate of Engagement
The amount of engagement actions (e.g., likes, shares, and comments) a post receives concerning the total number of followers is known as the average engagement rate.
Higher engagement shows your content is resonating with the audience. Thus it's a crucial statistic. Track the engagement rate of each post to demonstrate this. The quantity of likes, shares, and comments is meaningless if you have a high engagement rate. However, because social media engagement is such a complicated topic, far too many brands purchase posts from social media influencers solely on their number of followers or the number of likes their posts or videos receive. Always remember to stay true to yourself and your social media engagement.
5. Rate of Amplification
The Amplification Rate is the number of shares per post divided by the total number of followers. Amplification, according to Avinash Kaushik, a Google author, and digital marketing evangelist, is
"The rate at which your fans take your content and promote it through their networks."
In other words, the higher your amplification rate, the more likely your followers are to identify with your brand. It calculates the average number of times each of your posts has been shared or retweeted.
6. Rate of Conversion
Without a doubt, customer conversions from your social media presence should be an essential indicator in your reporting. After clicking on a link in your post, the number of visitors who take action on a page (e.g., subscribe to your newsletter, download a gated content asset, or register for a webinar) is referred to as the conversion rate.
A high conversion rate implies that your content is useful and appealing to the people who will be reading it. From the standpoint of social media, it's an indication that your message was relevant to the offer. To put it another way, it delivered on its promise. It also allows you to better understand your audience by looking at those who have visited your page or taken a certain action on it. This data might assist you in creating targeted audiences for your paid adverts and social media engagements.
Building trust with a customer takes time, but there are numerous ways to create leads using social media. They might not buy from you right away when they view your product, but you can count them as a customer when they do.
7. Rate of Comments
The ratio of comments per post to total followers is known as the conversation rate. It's preferable to tracking comments with no context. After all, if you only have 200 followers, getting an average of 20 comments per post is a lot more impressive. Keeping track of your conversation rate will help you figure out how much of your audience feels compelled to comment on the content you share on social media.
It can be quite informative to monitor exactly what is being stated and merely respond to user communications promptly. This should include the message's tone as well as any questions that may arise. The number of comments you receive can also help you determine how much bandwidth your social media team has and where further resources are required. Not only are they useful as analytics, but you should also devise a plan for efficiently managing social media comments so that you may communicate with your followers through replies and exchanges. Take note of your followers' recurring inquiries, remarks, or worries. These might be a great way to get ideas for your content strategy and improve social media engagements.
Wrapping Up!
Monitoring and tracking your social media engagement metrics be a daunting task. However, it pays off in the long run by providing useful insights into strengthening both organic and paid social media efforts.Social media engagement is the future of customer service and business growth. To match up with the goals you defined, use a combination of the measures indicated above. Catchy slogans and celebrity endorsements are no longer enough for brands. Businesses and brands must always be "on" thanks to social media and mobile phones, ready to engage with customers anywhere and at any time. You should make use of social SEO and link building strategies to get your brand out there. Use seo optimizer to make the job so much more straightforward, and you don't have to worry about a thing.
What Makes the Best SEO Tool?
Join the SaaS Revolution
All-in-One Suite of 50 apps

Unbelievable pricing - ₹999/user

24/5 Chat, Phone and Email Support