6 Common SEO Mistakes That One Needs to Avoid
SEO mistakes happen, but you can avoid them. Learn about the 6 common SEO mistakes that you have to avoid in order to rank higher in the search engines.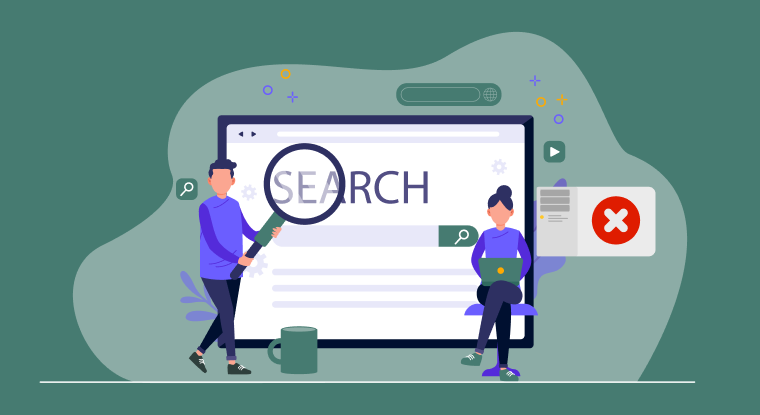 The most important tools of search engine optimization that modern businesses have at their disposal are to ensure that they reach the online audience that they want to reach. The full potential of SEO only manifests itself when all aspects are handled properly. If any element is overlooked, then the whole process will be ineffective. This is easier said than done as it can be quite easy to make mistakes when it comes to SEO. To help you out with this and ensure that your business reaches its desired audience, we've prepared a list of common SEO mistakes that small businesses should avoid. If this is something that you're interested in learning more about, here are common SEO mistakes that you don't want to make.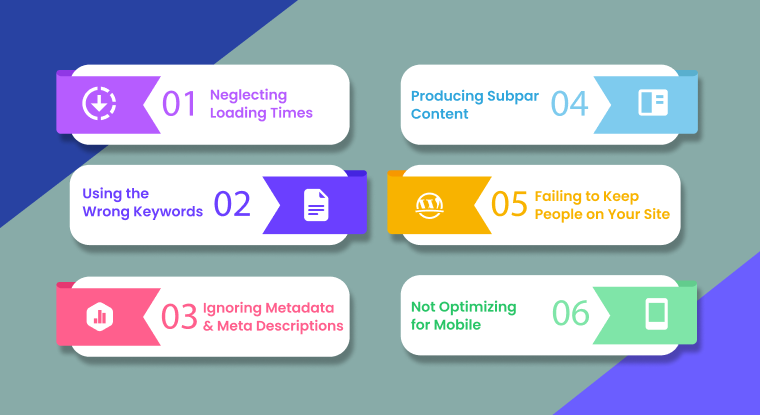 6 Common SEO Mistakes to Avoid
Here are the 6 mistakes that happen in SEO and should be avoided:
Neglecting Loading Times
The first common SEO mistake is slow site speed. While it may seem trivial, loading times have a significant impact on how well (or how poorly) your website ranks on search engines. One helpful tool that can be used to check your site speed is Google PageSpeed Insights. This tool, provided by Google, gives you an overview of what aspects you can improve upon to boost the speed of a particular page.
If you want to optimize your site and make it load faster, you can start by optimizing your images. Many websites have images that are relatively large, resulting in a slower website. Resizing your images can increase your website's speed. If you have a WordPress site, you can use an image-resizing plugin to do this for you. Also, if you have a WordPress site, you can turn off plugins that aren't being used. The best advice we can give is to delete the plugins you don't need. Keeping your site free of unnecessary or redundant plugins will make for a faster loading site.
Using the Wrong Keywords
Keywords are an important part of SEO. If you want to rank in Google, you have to make sure that every page on your site is optimized with keywords that are relevant to that page. Using keyword research tool get related keywords for your business. One of the biggest mistakes we frequently encounter is that site owners optimize their pages for generic keywords. If you are a relatively small business that wants to rank for "rental car," you're aiming too high. The size of your business doesn't matter; you're competing with all the car rental companies all over the world, which is impossible to do. Instead, try optimizing your site with a more specific keyword phrase, such as "car rental in California". If you mention the area in which your company is located in the keyword phrase, for example, it helps to cut down on the competition.
When it comes to keywords, longer, more descriptive keywords will give you a better position in the rankings. This also means that the number of people searching for this kind of keyword is lower than the number of people who search for a general keyword. But you can make up for this by optimizing your website for different long-tail keywords. By ranking on page one of Google for several different long-tail keywords, your website will gain more traffic than if you only optimized it for one or two main keywords that you never would be able to rank on page one of Google.
Ignoring Meta Titles and Meta Descriptions
While metadata and meta descriptions may not be on the top of your list of priorities, ignoring them is a mistake that can negatively affect your website. Metadata is information that appears on Google Search Engine Results Pages (SERPs). The various on page seo factors include title tags, metadata and meta descriptions. The title tag is still an important ranking factor for Google, so make sure your keywords are integrated into the title correctly for every page. If a title tag is too long, it will get cut off, so you want to avoid that. You want your potential customers to be able to find your business online.
A meta description is not a ranking factor, but it does have an effect on the click-through rate. A higher click-through rate boosts the chances of your page showing up in the SERPs. Optimizing your meta description allows more people to discover what your site has to offer. If they know that it contains the information they are looking for, they are more likely to click on it while searching than they would be if they had to find it themselves in the SERPs.
Producing Mediocre Content
SEO is more than just about keywords and metadata. Aside from the technical aspects of SEO, you'll also want to make sure that you're producing high-quality content for your website. This is another common SEO mistake. You want every page on your site to have decent content, and that content needs to be at least 300 words long. Having plenty of high-quality content helps Google determine what your website is about and if you can provide the answer people are looking for. If a page doesn't have a lot of quality content, it most likely won't rank well on search engines.
With that being said, it's important to keep in mind that you aren't making content solely for search engines. While you must abide by Google's standards, you also have to ensure that the content that you produce provides value for your intended audience. Use AI content writer to produce relevant and quality content.
Failing to Keep People on Your Site
The last thing you want is to get people on your site only to have them leave immediately. Once you've drawn visitors to your site, you want to keep them there. You don't want them bouncing back to Google the moment they find what they're looking for on your page. To encourage visitors to click through your site, use a button that takes them somewhere else on your site. This can be, for instance, a 'buy' button on a product page or a 'sign up' button for the newsletters. With that being said, remember to not go overboard and only have one main call-to-action on each page. Adding multiple call-to-actions may be ineffective as your visitors may feel overwhelmed and end up not clicking any of them.
If you want to keep people on your website, another thing you'll want to do is to integrate internal links to the other relevant pages on your site. This should be an important part of your SEO strategy. Linking pages together can help your website visitors and Google understand what your pages are related to each other, and even be useful when search in Google to find information on a certain topic. So spend some time on internal linking to create an interesting site structure!
Improve Search Engine Rankings with All-in-One SEO Tool Sign Up 14 Day Trial
Not Optimizing for Mobile
Lastly, many websites still fail to optimize for mobile. This is worrisome as a large bulk of people access the internet via their mobile devices. In 2018, Google started to use mobile-friendliness as a factor in its ranking algorithm. This means that the mobile version of your site is now the default version of your site. So if the desktop version of your site is set up brilliantly but the mobile version isn't at all well-made, this will be reflected in your rankings. In a negative way.
It's a great idea to run a mobile-friendly test to check whether your site displays properly on various mobile devices. In addition to that, check it out on your own mobile phone. Browse your own site for a while, click on buttons and links, and try to buy something while on your phone. Does everything work as you want it to? Does the page display correctly? Mobile usage is on the rise and will continue to grow, so don't miss out on all those mobile users by creating a great user experience on mobile.
Conclusion
We hope this blog proves to be useful when it comes to helping you gain a better understanding of common SEO blunders and how to avoid them. We understand that working on SEO takes up a lot of time and effort. However, it's important that you understand that SEO is the lifeblood of your website and will help you achieve your short-term and long-term goals. This is why it's crucial that you ensure that you avoid making any of the mistakes that we've discussed above. While it may seem intimidating at first, the information that we've laid out above should go a long way in helping you maximize your online platforms.
If you need help with SEO, then you've come to the right place. NinjaSEO is an seo tool that can help you to improve the visibility of your website and increase the traffic to your site. It offers a suite of features for both on-page and off-page SEO activities. A web crawler, and page grader are some of the on page SEO tools available to help you audit your website and improve search engine rankings.
What Makes the Best SEO Tool?
#1
Audit, optimize websites, build links and grade webpages
#2
Get a detailed report of backlinks from a frequently updated database of 3.2B inlinks
#3
Generate keywords and LSI based on Google keywords search tool
#4
Generate the site crawl map to get the hierarchical structure of all the web pages and links
#5
Crawl webpages, find score & get recommendations using powerful extension
#6
Identify authors details based on specific keywords & automate outreach activity using links bot
#7
Foster Link Building Proces
#8
Instant Sitemap Generation
#9
Unbelievable pricing - the lowest you will ever find
#10
Everything your business needs - 50 apps, 24/5 support and 99.95% uptime
Join the SaaS Revolution
All-in-One Suite of 50 apps

Unbelievable pricing - ₹999/user

24/5 Chat, Phone and Email Support