Best SEO Wordpress Plugins to Rank Higher on Search Engines
These are the best SEO WordPress plugins to help you rank higher in search engine results pages. Explore the end-to-end SEO upgrading software NinjaSEO now.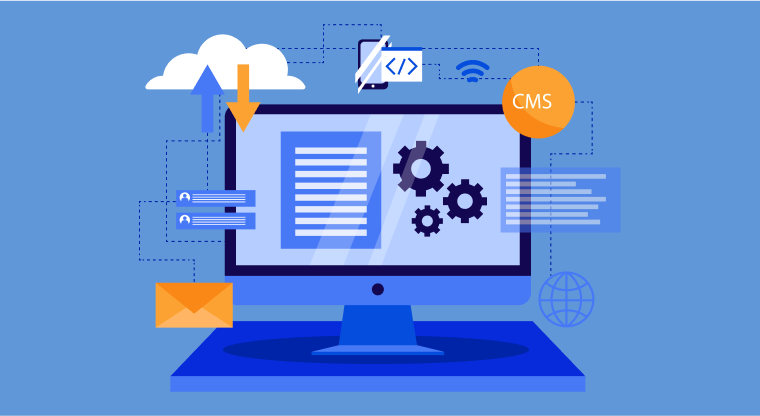 Looking to garner more traffic in 2021? We have outlined the best SEO plugins including PushNinja for WordPress
Introduction
SEO is the fuel that drives online content, especially online blog content. It is a known fact today that SEO is instrumental in generating site traffic. There is a popular internet saying whose origins can hardly be traced. It says,
The best place to hide a dead body is the second page of Google search.
Prevent your site from being dead using the seo tool. WordPress is becoming more popular as an outlet for creating, designing, owning, and managing websites—the platform powers more than 30% of the internet. Also, 62% of the fastest-growing firms in America use WordPress. In addition, more than 500 sites are created daily using WordPress. It almost seems like WordPress now powers the internet.
WordPress has many selling points. One of them is the ease of owning websites and the flexibility that it affords its users. Another one is the use of plugins. Plugins make owning a site even more effortless. SEO plugins are extension modules that enable you to integrate SEO with your blog on content management systems. WBcom Designs implies in this tweet that SEO plugins make WordPress sites search engine friendly.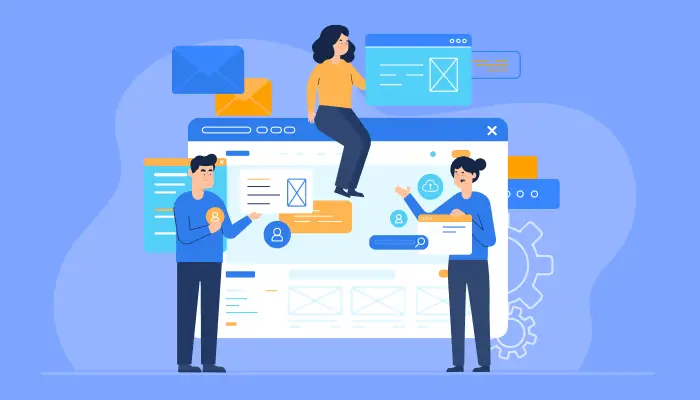 Before we dive into some of the best SEO plugins that you can use for WordPress in 2021, let's talk a little about what to look out for when trying to get WordPress SEO plugins. Questions to Ask Before Getting a WordPress SEO Plugin? Is it versatile? Can It handle all aspects of SEO?
You should not get more than one SEO plugin for your site. It is not even reasonable to do so. Firstly, having too many plugins takes a lot of resources. So, you would be putting unnecessary strain on your site if you have more than one. Also, different plugins have multiple functions. Using them together may slow your response. Even worse, it may cause your site to stop working.
Many plugin designers assert that their plugins can work with other plugins. Regardless of this claim, it is still not advisable to have more than one plugin. Choose the best plugin that works for you and stick with it. If the need for change arises in the long run, then you can change.
Simply, you should note all the areas that you want to be able to tackle using SEO and ask yourself, "Can this plugin help me solve all these problems?" If yes, then go for it. Nonetheless, sometimes, you cannot decipher the true capabilities of a plugin until you use it. So, there's bound to be some sort of representation in such cases, and you may have to change your plugin later.
Crucial Aspects of Search Engine Optimization
Here are some crucial aspects of search engine optimization that a WordPress plugin can help you with:
Backlinks: Backlinks help to redirect your users' attention to your site over and over again. There are SEO plugins specially designed to enable you to use backlinks to improve your site's domain authority. Monitor all the backlinks of your site using backlink checker.
SERP: One great objective of SEO is to have your site appear among the first few SERPs. You should look out for this when choosing an SEO plugin.
Local SEO: Local SEO allows you to be accessed by people in a particular geographical area. If you operate a brand that heavily depends on physical contact and liaison with the client, this part of SEO should be important to you. Logistics and transport companies need local SEO because they need physical meetings and movements to render their services. Using a WordPress SEO plugin that allows you to connect to people within the same geographical area as yours is advantageous to these brands.
Google AMP SEO: This SEO branch enables you to optimize your content for the people who access your site with mobile devices. It seems expendable, but this part of SEO is essential.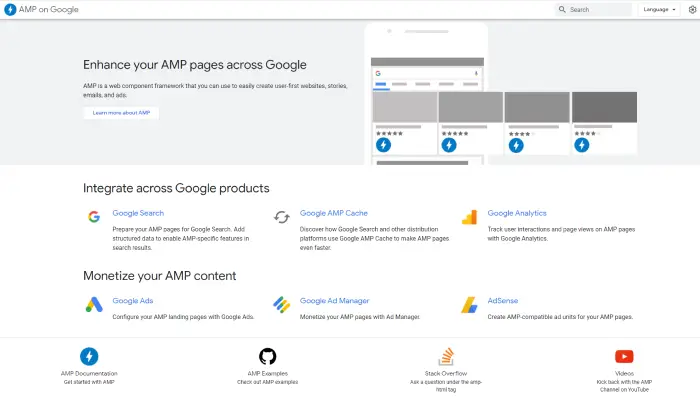 Statista reports that excluding tablets, mobile devices accounted for more than half of the web traffic worldwide in the first quarter of 2021. The reason for this is apparent. Mobile devices are easier to carry around, so they get used more than any other type of device.
Social Media SEO: Your plugin should have social media channels. First, they enable you to share your posts easily. They also allow you to view how your posts are doing on social media.
Keyword SEO: A lot of people think that this is all SEO involves. That's how important it is as an SEO branch. Knowing the right keywords to add to your content help to push you to the top of the SERPs on any search engine. Hence, your plugin should have a means of helping you utilize keywords effectively. Also you can use keyword tools to obtain right keywords.
Video SEO: Video SEO makes it easier to share your content. It helps to create more inbound links, bringing traffic to your site. Consequently, this leads to lead generation and conversion.
On-Page SEO: On-Page SEO involves enabling search engine crawlers to read your page easily. It also optimizes your site for human visitors. Your plugin must help in optimizing on page seo too.
Many SEO plugins provide the resources stated above. It suffices to say that star-studded SEO plugins like that are likely to be expensive. So, if you run a startup and are tight on funds, you could go for a less packed SEO Plugin like NinjaSEO. You can utilize the complete features of it at a low cost and make your website rank high in search engines.
Measuring Metrics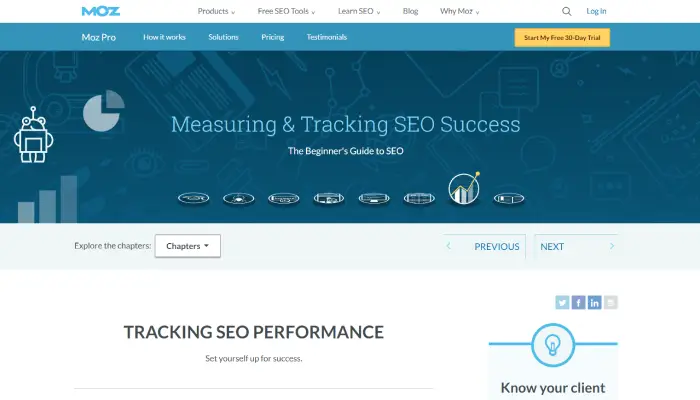 How can you know that your SEO efforts are yielding fruits if you cannot measure metrics? If you cannot measure metrics, you won't know what to change, which subscription to stop paying for, and what branch of SEO to focus better on.
The keywords here are "plain" and "easily" You are most likely not a professional at tracking metrics. So, your SEO plugin should be enabled to display metrics in a way that you would understand so that you can improve your efforts without much hassle.
Furthermore, your SEO WordPress plugin should provide actionable advice on how to improve your metrics. This helps you a little further and enables you to take action on the metrics that you can see. Can I use it without the help of a professional? Is it easy to use?
You do not want to pay for a service and still have to pay a professional so that you can use the service. This is especially true if you run a sole proprietorship. So, you should look out for ease of use when purchasing a service.
Best SEO Plugins for WordPress in 2022
Here is a list of top SEO Plugins for 2022:
Yoast SEO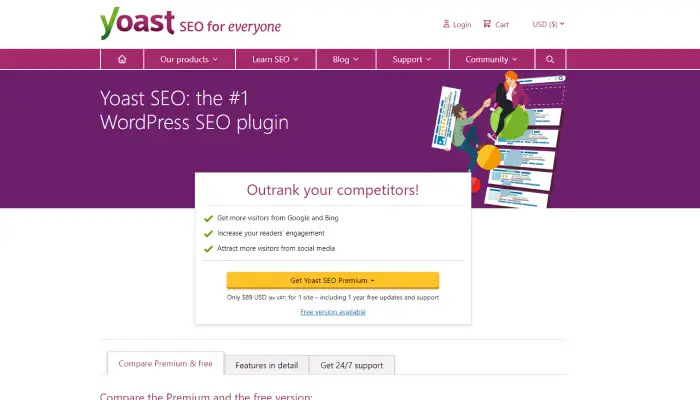 This plugin is the most downloaded on WordPress. It is easy to use, and it possesses a couple of features that make everyone love it. With Yoast, you can work on some of the following: Keyword analysis, meta tags and meta titles, schema markup, breadcrumbs, readability analysis, mobile preview, XML sitemaps, among others.
Yoast's biggest selling point is that it's free (Not exactly a "selling" point now, is it?). It is not only that it's free, but also that its free version has features that you cannot even find on the paid versions of many other plugins.
Yoast SEO costs $89 for one site with one year of free updates and support. It comes with a free and premium plan.
Squirrly SEO
This plugin is suited for beginners. It comprises a competitor analysis service that drops hints on what you can do to outrank competing pages. Squirrely's pricing begins from $20.99 for the pro plan. There are other plans, the Business and the Agency plan, which cost $71 and $75 respectively. Squirrely's charges are per month.
Ahrefs
Ahrefs helps to run content audits to optimize your historical content and monitors your backlinks. The plugin allows you to audit your site's content with their profound databases. One top-notch quality of Ahrefs is that it helps to track backlinks, relieving you, the site owner, of stress.
Ahrefs has four different plans; Lite, Standard, Advanced, and Agency. They cost $99, $179, $399, and $999 respectively.
SEOPress
SeoPress is a straightforward plugin, and it works with ease. The plugin comes in about 17 languages. So, whatever site your language is in, they've got you. This plugin also has Google Analytics integrated with it, further enabling you to monitor your SEO attempts.
SeoPress has a free plan and a pro plan that costs $39. This price covers unlimited sites, so it's basically a steal!
XML Sitemaps
This plugin allows you to generate a sitemap for different search engines. Fundamentally, it enables search engine crawlers to see the areas of your site that you want to be indexed. Also, it allows the crawlers to crawl these site areas. This, in turn, enables search engine crawlers to access your site without hindrance. Google XML Sitemaps is free.
NinjaSEO
NinjaSEO is an seo optimizer that has equipped with all the features that every other SEO plugin has to offer. From broken link checking to fix on-page errors, from SEO bot activation to Building backlinks, NinjaSEO serves the purpose of being a WordPress plugin.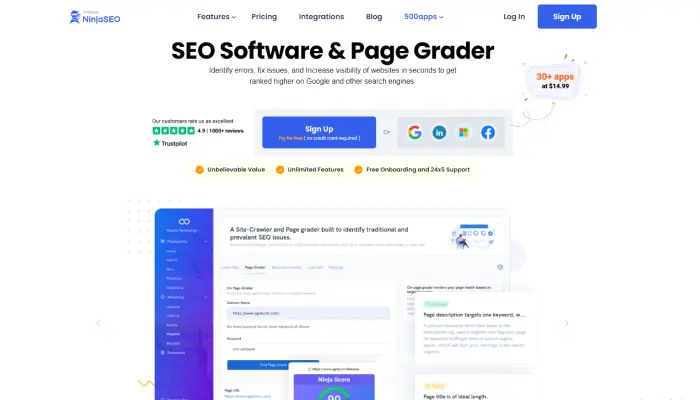 Discover issues, prioritize them, and fix them instantly with the help of the NinjaSEO WordPress plugin. Know the competitive keywords and meet the search engine standards for your website to rank higher.
Improve Search Engine Rankings with All-in-One SEO Tool Sign Up 14 Day Trial
Broken Link Checker
This plugin carries out deep internal and external backlink checks. It also ranks your keywords. Broken links are bad for your SEO. They are also part of what constitutes a bad user experience. Ensure your SEO is complete using broken link checker. There are three plans for this plugin; Pro, Guru, and Business. They cost $119, $229, and $449 respectively. Note that the pricing is monthly.
All-in-One SEO
As the name implies, this plugin attacks SEO from a versatile perspective. AIOSEO, as it is popularly called, is known to be a very simple user interface that new SEO enthusiasts love.
It has a Basic Plan, a Plus plan, a Pro plan, and an Elite plan. They cost $49.50, $99.50, $199,50, and $299.50 respectively. Pricing is annual.
How to Install SEO Plugins on WordPress?
First of all, you should make sure that you possess a backup of your WordPress site before installing a plugin because a lot can go wrong while installing plugins. Having a backup will allow you to put your site backup in case anything happens. There are two ways to install an SEO plugin on your WordPress site. Here they are:
Via the WordPress Dashboard
First, go to "Plugins" in your WordPress dashboard. Next, click "Add new."Afterward, look for the plugin that you wish to install. Then, click the plugin and choose "Install now." Choose "Activate," and you can use your plugin!
Via File Transfer Protocol
To install a WordPress plugin via FTP, you must first download the plugin as a zip file. Next, you should go to WordPress and choose "Plugins." At the top of the page, you will see an "Upload Plugin" option that will take you to an upload form. Click the "Choose File" plugin on the upload form and select the plugin zip file you downloaded. Next, click "Install Now." After installation, click "Activate Plugin." Afterward, you may have to configure your plugin settings.
Note that you cannot install paid WordPress plugins through this method because they are not on the WordPress directory.
Rounding Off
Utilizing tools for your website is relatively easy if WordPress administers it. So, if you have a WordPress site, it is expedient to use plugins. Furthermore, before choosing plugins, you should do some of the things outlined above.
NinjaSEO plugin by 500apps comes with an All-in-one seo tool to upgrade your performance in the online markets to the next level. We provide this plugin at no additional cost on signing up for one product at $14.99 per user. You can go exploring 30+ apps at the same cost. 500apps is here to enrich your business and enlist you in the Fortune-500 organizations.
What Makes the Best SEO Tool?
#1
Audit, optimize websites, build links and grade webpages
#2
Get a detailed report of backlinks from a frequently updated database of 3.2B inlinks
#3
Generate keywords and LSI based on Google keywords search tool
#4
Generate the site crawl map to get the hierarchical structure of all the web pages and links
#5
Crawl webpages, find score & get recommendations using powerful extension
#6
Identify authors details based on specific keywords & automate outreach activity using links bot
#7
Foster Link Building Proces
#8
Instant Sitemap Generation
#9
Unbelievable pricing - the lowest you will ever find
#10
Everything your business needs - 50 apps, 24/5 support and 99.95% uptime
Join the SaaS Revolution
All-in-One Suite of 50 apps

Unbelievable pricing - ₹999/user

24/5 Chat, Phone and Email Support