8 Ways to Drive Organic SEO Traffic for Your Website
SEO is the process of getting natural and unpaid traffic to your website. Here are 8 ways to drive organic SEO traffic for your website.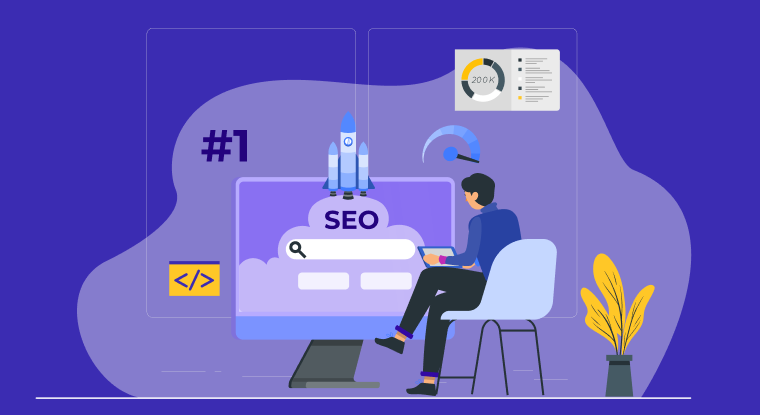 Simply put, SEO stands for search engine optimization. This is a digital marketing strategy that aims to improve the online presence of your business website and increase its ranking on various search engines. Organic SEO is a form of SEO that targets natural/organic unpaid traffic rather than paid traffic.
It uses SEO tools and strategies, like link building, and keyword research, that help your website rank at the top of organic, unpaid search engine result pages. It mainly operates by improving the relevancy of the content they offer and optimizing the website, incorporating meta tags, and sharing links pointing to the website and its content
The quote below emphasizes how important it is to get the type of traffic that will boost your website growth and brand recognition, the type of traffic that you can easily obtain through organic SEO optimization.
Today It's Not About 'Get the Traffic' - It's about "Get the Targeted and Relevant Traffic." - Adam Audette, Chief Knowledge Officer, RKG
Drive Organic SEO Traffic to Your Website
Every business knows how important it is to draw customers to purchase their products and employ their services. In this digital business age, this means that businesses are in constant competition to attract more people to their websites.
This is where organic SEO comes in. It is the most important type of traffic a business can attract to its page. This is simply because it is targeted to attract customers looking for specific information, products, services, etc.
It uses various SEO tools to research topics of high importance and tailors the content of the business page to provide specific information on these topics. Research has shown that over 70 percent of people do not read past the first page of results on search engines. This means that if your website does not rank highly on the first page of results, you have a low SEO page ranking and are less likely to get any useful traffic. Organic traffic solves this by using various SEO tools to increase the ranking of websites on these various search engines.
It is one of the most beneficial SEO tool as it easily increases the traffic of any website and is more likely to convert an ordinary visitor or reader to a customer.
Some more benefits of organic SEO include:
Improves the relevancy of the content of your website, which increases the SEO page ranking and makes it rank longer on various search engines.
Generates more clicks as it contains targeted and relevant content that is related to the questions and keywords searched.
Gives a more cheaper and affordable option as compared to paid websites and content optimization.
Generates more income for the business as users are more likely to click on ad links on higher-ranking pages, and more likely to patronize such business websites.
This tweet by David Logan, an IT consultant, digital marketer, and SEO strategist emphasize that organic SEO and its SEO tools are the best way to boost the standing of your website.
How Does Organic SEO Work?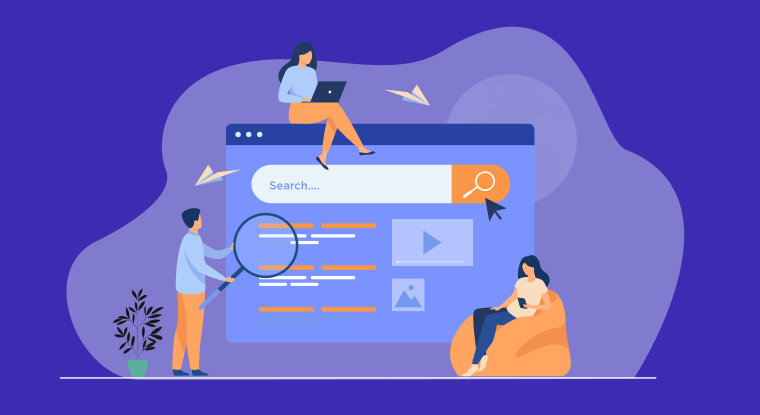 The main goal of organic SEO is to optimize a website and its content and make it worthy of top ranking in search engines, such as Google. It is very important as a business to have a website with a high SEO page ranking and this is only possible if you implement organic SEO into your content. To do this, you must first carry out an websi audit on your page.
An SEO audit is an evaluation of a website that determines the ability of that site to appear in search engine result pages (SERPs) and then grades the website according to this ability. This SEO audit helps businesses to identify their SEO page ranking and to pinpoint issues in the content that are affecting the ability of the page to boost its search engine performance and improve its SEO page ranking.
After you have determined the areas that need improvement from your SEO audit, you can then employ various organic SEO tools and techniques to build an organic SEO strategy that will give the needed boost to the page. Some of these SEO tools and technologies include keyword research, content creation, page optimizations, the addition of images and meta tags, etc These techniques work together to address the issues revealed in your SEO audit and appeal to Google's ranking algorithm, which can help you rank higher in SERPs.
8 Ways to Drive Organic SEO Traffic
After performing and analyzing your SEO audit, and identifying areas of improvement in your website and organic SEO strategy, it is then important for you to implement specific SEO tools that will drive and improve your SEO strategy. Here are the top 8 of these SEO tools and methods: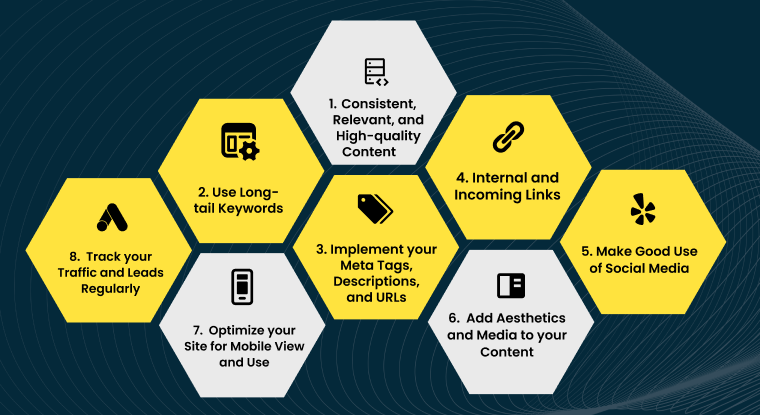 1. Consistent, Relevant, and High-quality Content
It is important your website has high-quality content that is consistent and relevant. This means that your content should be able to satisfy the specific intent and information that is relevant to searchers. Such relevant content must be posted consistently so that readers have more options and more information to keep them on your site longer.
To do this properly, you must place emphasis on proper and thorough keyword research to find out the relevant keywords to target with your content. A website can only organically increase its organic traffic and improve its SEO page ranking where its content targets specific keywords and topics.
2. Use Long-tail Keywords
As mentioned above, keywords are a very important seo tool. However, they lose their impact where they are just generalized keywords. You should use keywords that are specific to the product and service that your business offers and more related to what users regularly search for.
This is what makes your website stand out and eventually marks your site as the top destination for that particular topic or object. This will boost your SEO page ranking and increase the inflow of customers and revenue.
3. Implement Your Meta Tags, Descriptions, and URLs
Meta tags, meta titles, meta descriptions, and URLs are very important for any optimized website or blog. When properly implemented, they help to simplify your content and explain to search engines exactly what your content is targeted at. There are many SEO tools that help to simplify this implementation process but you must make sure they're present on all content if you wish them to truly boost your organic traffic.
4. Facilitate Internal and Incoming Links
Another use of SEO tools and methods to boost your organic traffic is to work on the internal and incoming links on your site. Once you have an adequate amount of quality content, you should put out links on your website, other websites, and various blogs. Target high-ranking sites and blogs with large traffic as this can increase the time visitors and readers spend on your site.
Several search engines like Google have higher ratings for sites that have a lot of incoming links. It helps if you have outgoing links to other high-ranking and trustworthy sites on your page as the more you have, the higher your page ranking, and the higher the trust of search engines and visitors in your content and business.
5. Make Good Use of Social Media
Social media is one of the most effective SEO tools of promotion in this digital age. Build a social media presence for your business and you can share links on these sites such as Facebook, Twitter, Linked In, etc.
This helps to increase the popularity of your business and the website. Also, having incoming traffic from people on links shared on social media shows search engines like Google that the content of your site is important and relevant, which increases your SEO page ranking.
6. Add Aesthetics and Media to Your Content
People are more attracted to content that has visual elements such as infographics, images, videos, etc. It increases the screen time they spend on your site and encourages them to share your links and attach incoming links to your website.
It is also important to have pleasing aesthetics on your website as minimal things such as ease of navigation to make finding information easy can have a large impact on how a reader interacts with your site and how likely they are to patronize and recommend your site to other people.
Improve Search Engine Rankings with All-in-One SEO Tool Sign Up 14 Day Trial
7. Optimize Your Site for Mobile View and Use
One of the most important ranking features of recent times is the mobile-friendliness of websites. Many search engines, especially Google have increased the importance of mobile-friendliness in its rankings signals so your page should have features that easily convert to a mobile view that is still as readable and aesthetically pleasing as the web view.
Some tips to optimize your website for mobile are that you should design for touch, redesign pop-ups for mobile devices, implement caching, image compression, enable accelerated mobile pages, etc.
8. Track your Traffic and Leads Regularly
It is not enough to boost your organic traffic and increase your SEO rankings, you must also sustain this growth and improvement. This is where your SEO audit and analytics tools come in. You should carry out periodic SEO audits to check the ranking of your site and note areas that require further improvement.
There are several analytical tools for page rankings and traffic such as Google Analytics. It measures changes in search traffic and visitors' interactions with your website that have resulted from SEO. This as well as your website audit will help you determine how well your organic traffic is being converted to customers and subscribers.
Conclusion
If you're going to post content on your site anyway, you might as well take the time to make sure Google takes notice of your effort. – The Content Factory
As stated in the quote below, there is no point in posting content on your website if you won't maximize the content and its benefits to your site. Organic SEO can do this for you by drawing organic traffic through SEO audits and optimization tools.
The 8 methods above are the best site. You do benefit, because your SEO page ranking increases, your traffic, readers, and customers increase, and your business experiences growth and improvement. ways you can drive organic traffic.
What Makes the Best SEO Tool?
#1
Audit, optimize websites, build links and grade webpages
#2
Get a detailed report of backlinks from a frequently updated database of 3.2B inlinks
#3
Generate keywords and LSI based on Google keywords search tool
#4
Generate the site crawl map to get the hierarchical structure of all the web pages and links
#5
Crawl webpages, find score & get recommendations using powerful extension
#6
Identify authors details based on specific keywords & automate outreach activity using links bot
#7
Foster Link Building Proces
#8
Instant Sitemap Generation
#9
Unbelievable pricing - the lowest you will ever find
#10
Everything your business needs - 50 apps, 24/5 support and 99.95% uptime
Join the SaaS Revolution
All-in-One Suite of 50 apps

Unbelievable pricing - ₹999/user

24/5 Chat, Phone and Email Support