Tips to Create SEO Friendly Landing Pages to Rank Higher
Creating SEO friendly landing pages is a great way to rank higher in search engine results pages. By optimizing you can attract more organic traffic to website.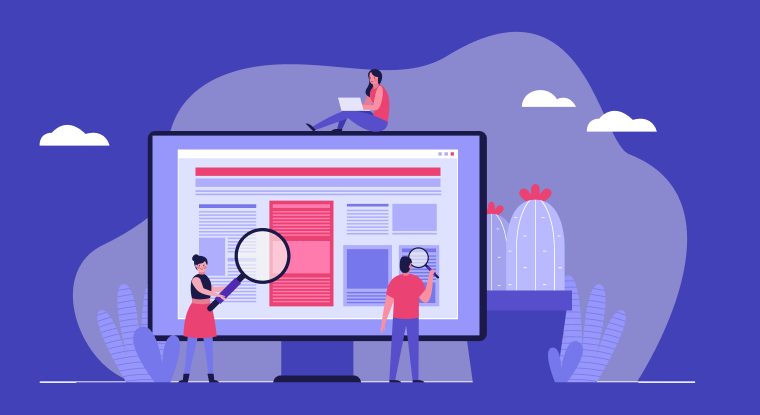 Everyone in the digital marketing industry is familiar with SEO (search engine optimization). However, did you know that landing pages can be optimized for search?
Organic search traffic (unpaid traffic) is one of the least expensive ways to reach your target audience, so people optimize their websites to increase it. You can use the same approach on your landing pages. As part of a digital marketing strategy, landing pages are designed to generate conversions. A useless webpage is challenging to find and performs poorly in search engine result pages. You won't get any conversions if no one can see your landing page.
Similarly, if the page is not optimized for the right audience, it will be useless. Gone are the days when a keyword-heavy title and a few links would increase your landing page's search ranking. Your landing page has to be optimized to attract the right audience and serve them the right message.
Moreover, landing page optimization attracts more organic traffic and the right potential customers, who are more likely to convert. This guide will look at some of the best practices for creating SEO-friendly landing pages that rank well. To get you acquainted with SEO, we will first get to know it.
What is SEO?
Search engine optimization is a set of methods and strategies used to help the websites rank higher on search engines results pages such as Google, Bing, and Yahoo. An optimized landing page is designed using the right keywords that attract the right audience.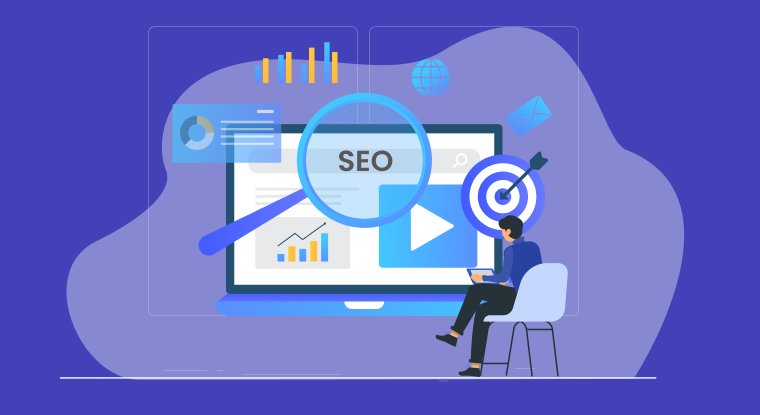 In addition, search engine optimization aims to get more visitors to your website through relevant, high-quality search results. This can significantly boost your website's traffic and conversion rates when done correctly.
A landing page is, after all, the initial point of contact between your brand and your prospect. If the landing page is poorly designed and offers a poor user experience, it can damage your company's brand image and lead to a poor conversion rate.
Why Is SEO Essential for Landing Pages?
One of the main reasons for optimizing your website's landing pages is they are what your potential customers will most likely be exposed to first.
This is where potential customers first see your business and its offerings. Landing pages are also where they take the first step into your sales funnel. If your landing pages are poorly designed, you risk losing potential customers' interest and losing out on a lot of potential business.
Build responsive landing pages using NinjaSites Landing Page Builder and optimizing them is essential from an SEO standpoint as well.
Search engine bots evaluate the content on your landing pages for relevance and quality. Landing pages are also crucial for getting your content indexed by search engines. Optimizing this for better search engine results can be one of the best investments you make. For instance, if you want to rank higher on local search results in Google, your landing page should be optimized so that Google recognizes it as the answer to the searcher's query.
How to Create SEO Friendly Landing Pages?
A well-optimized landing page has a greater chance of appearing in top search results. This means more organic traffic and more conversions. We need to understand that landing pages are a precious resource for search engine optimization.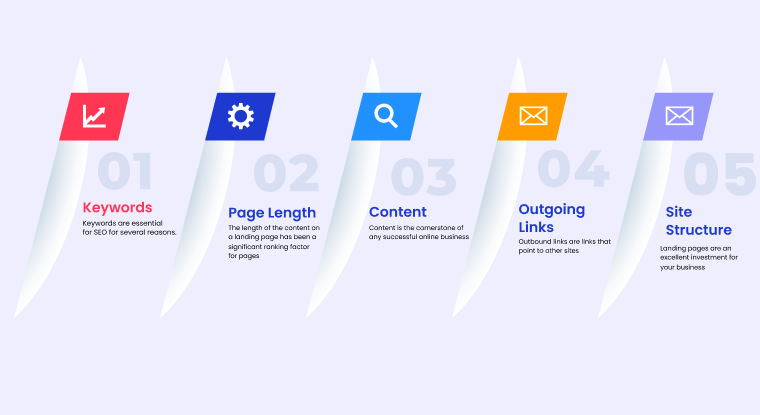 So here are the tips for creating an SEO-friendly landing page to increase your ranking in search engines:
1. Keywords
Keywords are essential for SEO for several reasons. Using the right keywords on your landing pages can help you rank higher in search results, generate more traffic, and convert visitors to customers.
Keywords are phrases that are used in search queries. For example, 'best digital marketing agency is a keyword phrase that people use to search for digital marketing firms.
Also, keywords are easy to find. All you have to do is to head over to keyword tool and run a search for keywords related to your business. This also helps you find the right audience, and they also help you construct your landing pages better.
Keywords are used in two ways on your landing pages:
Meta Keywords The meta keywords tag doesn't play a significant role in SEO anymore. You can still use it, but it has limited use.
Heading Tags Heading tags (H1, H2, etc.) influence a landing page. You can use them for creating a visual hierarchy for the content on your landing page. This is also to reinforce your brand's message on the landing page
The use of keywords in your heading tags is essential, but it is more important to use your keywords in the proper context.
For instance, you want to optimize the page for the keyword "web design trends". Adding the phrase "web design" in your heading tag, followed by the company's name and the company's slogan, is a bad idea. It simply won't make sense, and it will irritate the reader.
Remember: A landing page is not a sales page. It is a place where people come to learn about your business. You should use your keywords in the proper context and add them naturally to your content.
2. Page Length
The length of the content on a landing page has been a significant ranking factor for pages. Having a long landing page was perceived as a good thing.
Longer landing pages were perceived as more relevant and authoritative, which helped the landing pages rank higher in search results.
So your landing pages should be optimized for:
Mobile-First Indexing Algorithm As mobile devices became an integral part of the lives of most people, Google made changes to its search algorithms to make search results more mobile-friendly.
Speed Google considers the speed at which your landing pages load a ranking factor. The search engine considers sites that load fast to be more reliable and trustworthy.
With the introduction of new algorithms such as the mobile-first indexing algorithm, the need to load landing pages quickly has become more critical.
Google pays great attention to the speed at which your landing pages load, and if your pages don't load quickly, you can expect your ranking to drop significantly. Check your page speed using PageSpeed Insights and take the necessary steps to increase the loading speed.
Usability A landing page that is difficult to use and that frustrates the reader will hurt your business's brand. You lose customers when your landing pages frustrate your readers. You also lose search engine ranking.
3. Content
Content is the cornerstone of any successful online business. The more valuable the content on your landing pages, the more people will want to read it. Generate unique content using AI content writer. This way your website will be found in the search engines more.
Search engine bots consider the freshness of the content on your landing pages when evaluating its relevance for search queries. The more the content on your landing pages is updated, the higher it will rank.
Length The content on your landing page must be concise and to the point. Landing pages are not the place to write 10,000-word essays.
Content Format The format of your content should be easy to understand and easy to navigate.
Updates The content on your landing pages should be regularly updated. The more the content on your landing pages is updated, the more you expect your ranking to improve in the search engines.
4. Outgoing Links
Outbound links are links that point to other sites. Links that are related to your business and placed on pages where they are relevant and helpful to your readers are considered high-quality links.
Improve Search Engine Rankings with All-in-One SEO Tool Sign Up 14 Day Trial
When you publish web content, don't overdo the links. Use relevant, contextually relevant links that help drive traffic to other essential resources on the web. Automate the link building activities using links-bot.
Link Targeting The more you can target the links on your landing pages, the better your chances of increasing your ranking in search engines.
Link Relevance Natural links relevant to your landing page content and related to your niche will help your ranking as well.
Link Diversity The more the number of domains you have links to, the better. Natural links that are spread across different disciplines help your ranking a lot.
5. Site Structure
Some SEO experts call the site structure of your landing pages the "waterfall effect." You want to make it easier for search engine bots to index your site.
One of the things you can do to help search engine bots index your site is not to have duplicate content on your site. You should also ensure that your landing pages are well linked to other pages on your site. This will help the search engine bots crawl your site better.
Conclusion
Landing pages are an excellent investment for your business. We will help you increase your search engine ranking, drive seo organic traffic to your website, and help you improve the number of conversions.
By paying attention to details such as content, keywords, heading tags, site structure, and more, you can optimize your landing pages for better search engine ranking.
If you need an SEO Chrome Extension, NinjaSEO is the best! We provide all-in-one SEO audit tools to improve your landing pages! Sign up now!
What Makes the Best SEO Tool?
#1
Audit, optimize websites, build links and grade webpages
#2
Get a detailed report of backlinks from a frequently updated database of 3.2B inlinks
#3
Generate keywords and LSI based on Google keywords search tool
#4
Generate the site crawl map to get the hierarchical structure of all the web pages and links
#5
Crawl webpages, find score & get recommendations using powerful extension
#6
Identify authors details based on specific keywords & automate outreach activity using links bot
#7
Foster Link Building Proces
#8
Instant Sitemap Generation
#9
Unbelievable pricing - the lowest you will ever find
#10
Everything your business needs - 50 apps, 24/5 support and 99.95% uptime
Join the SaaS Revolution
All-in-One Suite of 50 apps

Unbelievable pricing - ₹999/user

24/5 Chat, Phone and Email Support