A Complete Guide to SEO Link Building
SEO link building isn't always easy, and it can take some time to see results. But if you're patient and persistent, it can be a very effective way to improve your SEO. Through this blog, you'll learn deeply about SEO link building.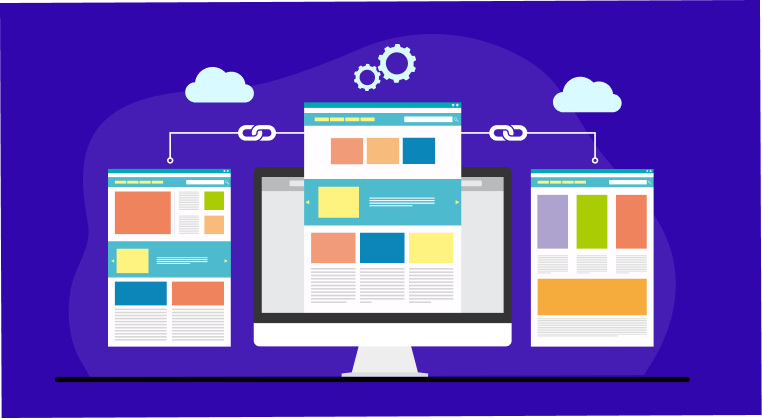 Any SEO strategy should include backlinks, but they are not a victory achieved by setting something up once and forgetting about it. As time passes, backlinks may disappear, turn harmful, or simply lose some of their significance. To maintain a good search engine ranking, you must continue looking for fresh backlink options.
It's crucial to understand that link development takes time even though developing the correct strategy.
How highly you rank in search engine results is heavily influenced by the pages where you develop links, particularly the quality and authority of those pages. You can understand the quality of the backlinks that you can use for your website using a popular backlink checker like NinjaSEO. Authority or commonly known as domain authority on the other hand is a ranking metric based on which it is easier to predict how the website will rank.
Blogging is one of the common techniques used to gain links pointing to your website. However, there are plenty of other proven strategies to build the finest backlinks and boost your rating in the SERPs.
SEO Link Building
The practice of obtaining backlinks from other websites to your website is known as SEO link building. Obtaining backlinks from reputable websites can give your website more authority and boost your position in search engine results (SERPs). It is crucial to understand whether authoritative websites link to the information or content. Thus determining the page's relevancy and trustworthiness.Because of this, SEO link building should be taken into account while developing an SEO strategy.
Let us assume that despite having a fantastic piece of content, your website is still relatively young and hasn't yet attained significant authority. Obtaining links using a free backlink checker from reputable websites is an excellent strategy to increase the authority of your website in a search engine's vicinity.
In a sense, backlinks are endorsements of your website. As pages with more backlinks frequently rank higher, it's crucial to produce quality content that is worthwhile to connect to and utilize SEO link building techniques to increase the number of backlinks. Since SEO link building requires work, getting started as soon as possible will offer you a competitive edge and significant long-term advantages for your website.
Obtaining backlinks from reputable, high-quality websites is the best strategy to increase your authority through SEO link building services. Even if you have a tonne of backlinks coming from spammy, unrelated websites, they probably won't improve your ranking. But remember, backlinks aren't everything; your main priority should be producing valuable, high-quality content. Use NinjaCOntent's AI Content Writer to generate high quality and unique content.
Harnessing the power of SEO link building can be difficult for both novices and seasoned pros when looking for techniques to raise your search engine rank. However, it might be among your most effective resources for attaining organic achievement.
Benefits of SEO Link Building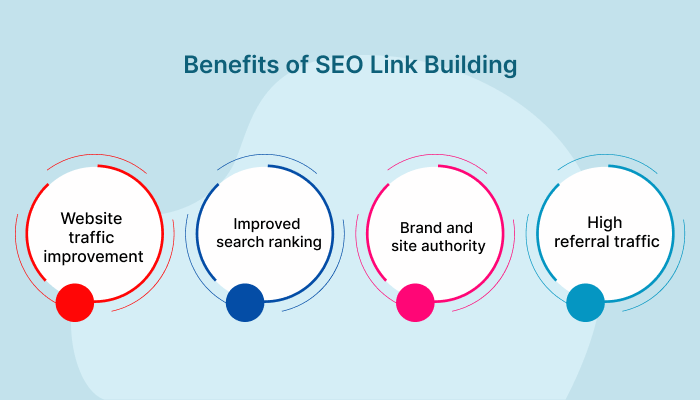 Here is how SEO link-building can benefit your entire SEO game:
Improve Website Traffic
The advantages are two-fold in this instance. To begin with, the more backlinks you get through SEO link building crawling back to your website, the more chances of increasing the number of clicks. Second, your domain authority, trust, and expertise are all increased by these backlinks. Your website will rank higher in search engine results when linked with more authoritative, trustworthy, and knowledgeable sites the search engine believes it to be. Additionally, the more website traffic you receive, the higher your ranks!
Improve Search Ranking
When relevant websites are linked back to your website through SEO link building services, Google or other search engines can use this context to better rank your website. Therefore, it demonstrates your own authority on a pertinent topic. Additionally, the more reputable and pertinent the connecting website is, the more likely it is to improve the search engine ranks of your own website. You can even use a website audit to monitor your website progress.
Build Brand and Site Authority
Backlinks are a way to tell the search engines that your website generates high-quality content and is relevant to a certain audience. They inform that you are the subject-matter expert.
Google or any other search engine is more likely to rank your website for terms related to your area of expertise based on the authority you have.
High-quality backlinks can aid in increasing consumer trust in your brand in addition to increasing trust with Google. Backlinks through SEO link building can contribute to the credibility of outside sources. Your company's reputation as a reliable business for both new and existing consumers may be strengthened when potential customers notice a link to your website on a website they like.
Get High Referral Traffic
Quality backlinks through SEO link building can increase referral traffic to your website, in addition, to helping increase organic traffic (the higher your website ranks on Google for your targeted keywords, the more traffic you'll get from the search engine).
Any visit to your website that originates from another website is referred traffic. Referral traffic is the term any analytics platform would use to describe traffic that came to your website from a particular article. A free website audit can help you analyze this.
Types of Links You Should Be Building
There are two types of links on your website: internal links and external links.
Internal Links
Internal links serve two goals, the first of which is evident and the second of which is less clear to those who are not familiar with seo tool and content marketing.
The first one has to do with the fact that by tying your material together, you're naturally directing users through it and encouraging them to stay on your website longer. To make a smooth transition, you might, for instance, end a guide on link building with a link to a guide you have on email outreach. Internal links help with crawlability, which is a less visible benefit of always linking your material together.
Google's bots periodically browse your website during the indexing process. The bots add any fresh pages and posts you may have submitted to Google's index throughout this process. These indexed pages can be located and browsed when a search query is entered. It is practically impossible for anyone to find your pages if they are not indexed.
External Links
You can certainly understand why many bloggers are opposed to including external links in their articles. Especially, in light of the fact that the main goal of maintaining a website is to increase visitors, not to provide free traffic.
However, things aren't quite as cut and dry in the area of search engine optimization, as is frequently the case. In general, linking to authoritative websites is regarded as a smart SEO strategy. Linking to recent research and how-to articles written by experts in your field is unquestionably a good idea.
However, you must be mindful of the websites you are linking to and the number of backlinks you are distributing.
Get Started With SEO Link Building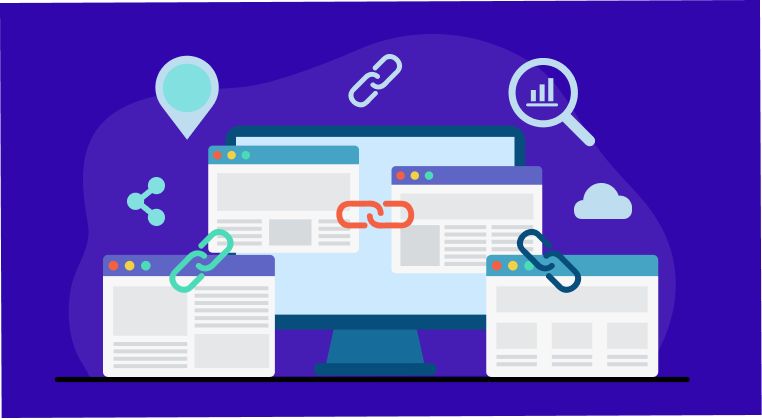 SEO link building can be a tough and time-consuming process, but it's an important part of any SEO strategy. Here are a few things to keep in mind when you're starting out:
1. Quality Over Quantity: It's better to have a few high-quality links with the best seo tool than a bunch of low-quality ones.
2. Relevance is Key: Make sure your links are relevant to your site's content.
3. Be Patient: Link building takes time, so don't expect results overnight.
4. Diversify Your Links: Don't put all your eggs in one basket. Get links from a variety of sources, including social media, guest blogging, and directories.
5. Monitor Your Progress: Use a tool like Google Analytics to track your SEO link building progress over time.
If you keep these things in mind, you'll be well on your way to a successful SEO link building campaign.
Tactics for Effective Link Building
Link building is a process whereby one website builds links with other websites in order to improve its own link popularity. A link from a popular website to your own website is worth more than a link from a less popular website.
There are many different tactics that can be used to build links effectively. Some of the most effective tactics are outlined below.
1. Social media: One of the most effective ways to build links is to use social media. Creating interesting and engaging content and then sharing it on social media sites such as Twitter, Facebook and Google+ can attract links from other websites.
Improve Search Engine Rankings with All-in-One SEO Tool Sign Up 14 Day Trial
2. Blogging: Another effective tactic for link building is to blog. By creating informative blog posts using proper keyword research tool and then you can attract links from other blogs and websites.
3. Directory Submissions: Submitting your website to online directories can also be an effective way to backlink building. However, it is important to submit your website to high-quality directories that are relevant to your website.
Future of Link Building
SEO link building will continue to be an important part of SEO because it is one of the few ranking factors that are within the control of the SEO along with using seo keyword research tool. SEO link building will also continue to be effective because it is a tried and tested method of improving search engine rankings.
The future of SEO link building is likely to be more complex than it is today. SEOs will need to be more creative in their approach to SEO link building and will need to focus on quality over quantity. SEO Link building will also need to be more targeted, with links being built to specific pages rather than to the home page. SEO link building is yet to evolve to meet the changing needs of the SEO industry but it will remain an important part of the SEO toolkit.
Wrap Up
Now that you have understood what SEO link building is, along with a few of its strategies, we recommend you to check out NinjaSEO by 500apps that help you increase your website performance by finding the links along with the key people involved using common SEO link building tactics. Also, it gives you access to 50+ other applications to help meet your end-to-end business requirements.
What Makes the Best SEO Tool?
#1
Audit, optimize websites, build links and grade webpages
#2
Get a detailed report of backlinks from a frequently updated database of 3.2B inlinks
#3
Generate keywords and LSI based on Google keywords search tool
#4
Generate the site crawl map to get the hierarchical structure of all the web pages and links
#5
Crawl webpages, find score & get recommendations using powerful extension
#6
Identify authors details based on specific keywords & automate outreach activity using links bot
#7
Foster Link Building Proces
#8
Instant Sitemap Generation
#9
Unbelievable pricing - the lowest you will ever find
#10
Everything your business needs - 50 apps, 24/5 support and 99.95% uptime
Join the SaaS Revolution
All-in-One Suite of 50 apps

Unbelievable pricing - ₹999/user

24/5 Chat, Phone and Email Support