What Are the Possible Ways to Conduct Seo Audits Using Ninjaseo Tool?
Are you unable to perform a perfect SEO audit for your website? Here is how you can do it using NinjaSEO by 500apps.
You probably take for granted the health and one day, all ruins up. A doctor is needed to fix health issues. And, here the doctor is the tool you use to maintain the healthiness of your website. An SEO checkup is needed for any website to escape from the cold claws of average performance. Every online business has the zeal to appear at the top of search results but that will not happen. Why? The lack of conducting SEO audits for a website; pushes them to the last!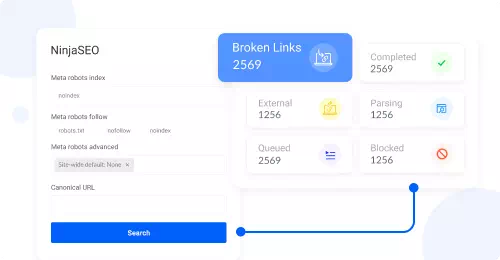 Improve Search Engine Rankings with All-in-One SEO Tool? Sign Up 14 Day Trial
A website analysis is needed to grow your online business and that analysis has a few proven methods or ways, as you call them. The methods help you in achieving desired digital marketing goals such as:
Receiving more conversions to generate leads
Building forever brand identity
Engaging the people with the compelling blogs
Giving knowledge and training to the target audience through your posts
Providing the best customer experience with your solutions
Increasing the visitor base to see updates about your business
Bringing more sign-ups or subscriptions for the created landing pages
And the list goes on and on depending on the type of business. However, the tools you use are the show-makers. Despite, conducting a site audit requires a lot of analysis, and if you want to do it manually, then you need to forget about the time! It's a much time taking process. And, not to worry because we have got an on-page grader that helps you in auditing your website and fixes the major technical SEO issues with a click. Basically, a site audit identifies severe website issues such as traffic, broken links or files, load time, content, page duplication, etc.
Ways to Conduct SEO Audit Using NinjaSEO Tool
1. Select Your Site Audit Tool
You can select our SEO audit tool – NinjaSEO. The tool does end-to-end website analysis and gives you a detailed report on the website issues. It scans every inner page. However, the online market is equipped with a lot of SEO tools and here's why we claim NinjaSEO stands out of all:
Scans your website to give you the list of technical issues
Identifies on-page as well as off-page issues
Checks for broken links, images, and files
Finds poor SEO content and its duplication
Assesses page errors, discovers the load time issues, and lists out the pages blocked by SEO bots to crawl
An SEO tool gives you a brief about your website so that you can go as per the checklist in resolving all of these. Sign-up for the one that takes your business into the hitlist of SERPs.
2. Place your Website URL in the SEO Audit Tool
Once you have NinjaSEO with you, you can find an option to place your URL into the site-auditor. The site-auditor starts crawling your website and gives you a comprehensive report of the website issues. This simplifies your job of resolving your critical SEO issues – from high to low in order to meet the search engine standards.
3. Discover Technical SEO Errors
List of pages that aren't crawled by the search engines
Status of website's SSL certificate i.e., http:// vs https://
Status of XML sitemaps that are crucial for search engines
Load time of the website and individual pages
Issues related to mobile-friendliness
Broken images or broken links (404 errors)
Page indexing with the help of robot.txt file
These technical SEO errors are simple to fix for an SEO expert but what about the one who is in the learning stage? Hence, NinjaSEO gives you the list of all the website SEO issues and you can fix them using the same tool in one place. No dependencies, no extra efforts; it's as simple as that!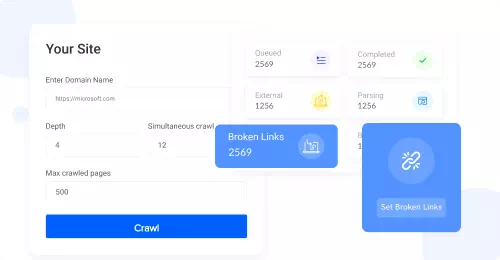 4. Identification of SEO Complications
The separating lines are always there between on-page SEO activities, off-page aspects, and technical SEO complexities. An SEO audit involves the list of common SEO problems that are – missing title tags, meta descriptions, alt-text for images, Google analytics code, H1, H2, and H3 in blogs and articles, schema, internal links, and anchor text. NinjaSEO site-auditor addresses these issues and notifies about the insignificance of the website.
5. Website Interface Analyzation
A poor user experience is another aspect that affects the SEO of your online business. Ineffective designs, improper content alignment, inopportune navigation within pages, etc., can make the users frustrate to go back before even understanding why you are in the online competition.
6. Suggestions for Content Optimization
Search engines create a magnetizing effect to rank your website in SERPs. And, for that, you need to optimize the content. Not all are professional writers and hence, it's difficult to find whether content strategies are going great or not for millions and thousands of words.
NinjaSEO tool is here to get the desired content strategy for your website – be it the keyword density or right keyword stage. Apart from keyword strategy, content optimization also involves readability score, plagiarism, spelling or grammatical errors, too long; didn't read the type of content, and duplicated content. To have well-optimized content and develop a powerful content strategy by targeting the right keywords on every page of your website, NinjaSEO is all needed to meet your content requirements. Website audits must be conducted from time to time unless you're fully heads-up online. Beat the competition and run your website audits through the most powerful tool – NinjaSEO by 500apps where you can find opportunities to grow like Fortune-500 and become industry dominant in the online itself.