If you don't know where you stand, it will be difficult to outrank your competitors. When you feel like you've done everything right, it's natural to question how you're getting outranked by a newer or smaller competition.
Many business owners are unaware that search engines are unable to experience your company in its natural environment. As a result, they must rely on a number of internet aspects. A complete seo competitor analysis can provide you with the knowledge you need to make judgments about your digital marketing approach in this case.
What is SEO Competitor Analysis?
An SEO competitive study entails examining your digital marketing presence in-depth to discover how you compare to the competitors. It may consist of the following: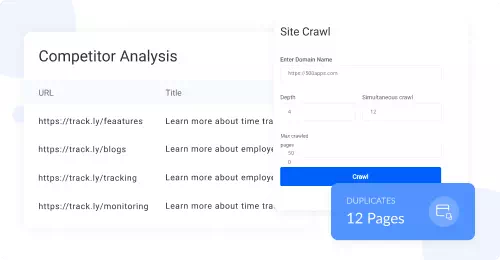 SEO keyword competition analysis
Analysis of the most important content Gap analysis is a term used to describe the process of Backlink analysis of competitors Why Should You Examine Your Competitors?
Improve Search Engine Rankings with All-in-One SEO Tool? Sign Up 14 Day Trial
It's good to compete. It promotes creativity and keeps people from becoming complacent. But it's a lot more fun when you're on top and people are trying to figure out how to beat you up rather than the other way around. You might ask why it's important to study your competition, whether you're meeting your objectives or not. This is a useful activity for a variety of reasons:
Determines what you're good at. In most cases, you will be able to outperform your opponents in certain areas. You can conduct more of them and expand your lead once you've identified them. Your strategy's flaws are highlighted. There is no such thing as a perfect SEO plan. When you examine what your competitors are doing, you may spot any flaws in your own approach and start filling them in.
Gives you new ways to reach your audience. Competitors might be using tactics that are completely new, giving you fantastic opportunities to improve your results. Simply put, a competitive analysis will help your business grow. It can be the catalyst for identifying and adopting new strategies that help you improve online visibility and increase your bottom-line results.
Who Are Your Actual Competitors?
Surprisingly, one of the first things a competition analysis will do for your company assist you in determining who your genuine competitors are. You might believe the person down the street is dominating the search engines, but it's actually a company in the next town over.
If you solely look at ranks for ""money keywords,"" your competitive analysis will be severely skewed. Many consumers look for local and long-tail keywords, and if a company ranks for these terms, it can dominate the market.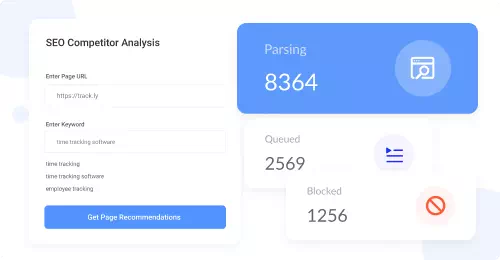 Take a thorough look at your buyer profile and target market before you begin your competitor study. You might wish to exclude out some firms, such as big-box retailers and generic websites like Pinterest, in favor of focusing on true competitors for your target market.
How to Do An SEO Competitor Analysis?
Here are some of the key actions you can take to acquire a clear image of your online competition now that you know why undertaking an SEO competitor study is so crucial. These include: conducting keyword research, using competitor backlink reports to help develop content, and building links through guest blogging opportunities.
1. Keyword Gap Analysis
The practice of identifying important keywords that your rival performs well for but you don't is known as keyword gap analysis, also known as competitive keyword analysis. Examine your competitors' websites to determine which keywords they score highly for and evaluate if those terms are relevant to your company. Move on if they aren't.
This is a fantastic opportunity for you to experiment with different approaches to reaching your target audience. You might start by creating a list of valuable keyword phrases to target with new content, with the goal of eventually outranking your competitors.
2. Top Content Pages
When looking at the competition, it is also important to look at the type of content they are producing. This is a very important stage when it comes to digital marketing because SEO - which is used as the primary metric for evaluating and determining how successful a business's website will be - relies heavily on high-quality content.
Do your competitors use the same type of material all the time or do they mix it up? Are they focusing on long-form pieces or frequent short posts if it's mostly written? What are the themes that they cover? If they stick to similar topics, you may be able to develop distinctive material that will reach a larger audience. Finally, do your competitors use suitable SEO methods with their material, such as title tags and metadata?
3. Analyze Web Design and UX
Next, you should definitely take a look at the design and user experience of your competitor's website. Site speed, security, and mobile friendliness are all key factors that will have a substantial impact on your organic search engine ranking.
What is the loading speed of your competitor's website? Is it simple to use and does it have a mobile-friendly design? Is the site informative and entertaining, and does it deliver a good user experience? You might have an edge if you don't. However, if your competitor's site meets all of these criteria but yours does not, you may need to do some work.
4. Examine Backlink Profiles
The most critical aspect of any competitive SEO analysis is finding out where your competitors are acquiring their backlinks. This can be done by following the root domain to the linking site and then discovering how many backlinks that site has followed by clicking on the ""Linking Root Domains"" column. Once you have found this information, you can decide if it is worth trying to exploit this knowledge for your own benefit or not.
Backlinks from high-quality websites act as endorsements for your site and can enhance your organic rankings. This is a challenging task to complete manually, and extracting the best data usually necessitates the use of a professional SEO tool.
5. Look at Google My Business Listings
Today, many businesses are limiting their customer base to be more regional. If you fall into this group, it's critical that you take a good look at how your competitors are using their Google My Business Listing in comparison to yours.
Have your competitors optimized and filled out their listings? Do they have photos and other information about their company to attract customers? Finally, how effective are they at persuading customers to leave comments online?